We have made a number of alterations to the Dr Tray, these changes took effect in product shipped in Early to Mid May of 2018.
The changes are;
3" longer wheel tray
Improved front wheel hook adjustment button
Wheel cup shape changed and stop added
Front wheel cradle is taller
Product with a date code of 8080 or higher has these changes. The date code can be found on the box , or is located on the product as in the image below.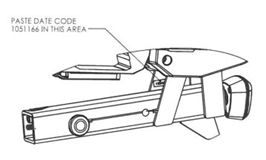 If you have further questions please contact us here, or by phone at 888-925-4621 during business hours.