Hi, 
First time rack owner , or long time owner, this link will help to answer many of your rack questions. 
Still have questions, ask the experts, click here for general rack questions, for fit questions click here, or give us a call at 888-925-4621 M-F from 7 to 4
Here are the 5 most important things to know about buying your first rack:
1) Do I need Crossbars to carry my gear?
Not necessarily but it depends on what is being carried.  Most of our products attach to crossbars and no gear mount will attach to the factory bars that run front to back on the vehicle. Bikes can be carried behind the vehicle.  And there is a product called the EasyTop which can carry Skis, Snowboards, Kayaks, and Surfboards. 
2) What does Yakima call the parts that attach to the roof?
There are 3 things needed to create a base rack system: Crossbars, Towers, and Clips
     The Crossbars are the support bar that goes horizontally across the vehicle:
     The Tower has all of the moving pieces of the system. It goes between the bar and the vehicle: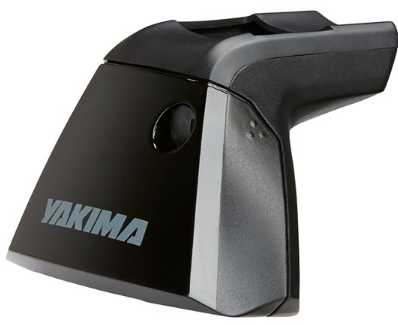 Lastly we will have the Clip, depending on the system we can also call this a Landing Pad. These parts are more vehicle specific and interface directly with the vehicle.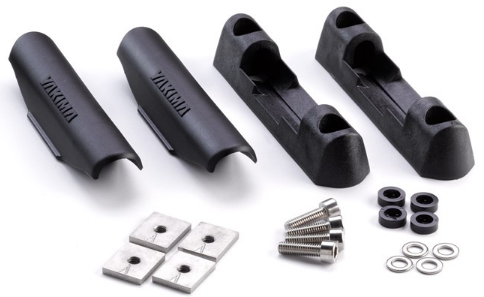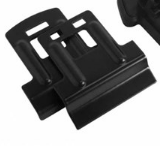 3)How does your system attach to my roof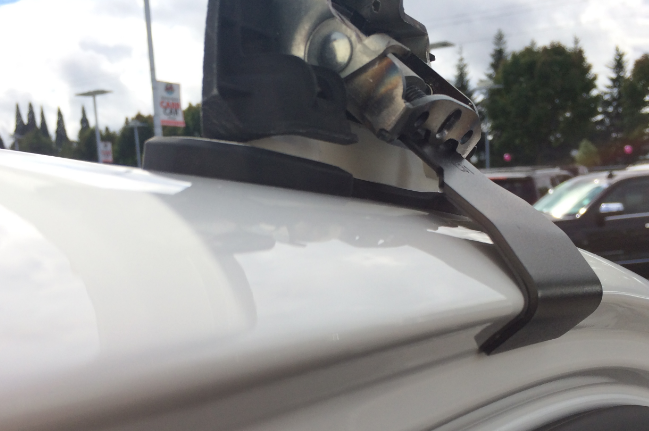 4)What can I carry on my car?
The distance between the crossbars, measured from like points (front to front, rear to rear) will determine what products can be carried on a vehicle.  This list includes some general exclusions, but the specific vehicle needs to be checked to confirm what can fit. That information can be found here: Fit Lookup
     Under 24" spacing: When the crossbar spread is under 24" this excludes the ability to carry boats, SUPS, surfboards, cargo boxes, tandem bike,   
     Under 30" spacing: 30" is needed to carry boats over 14'
     32" Spacing: This is our sweet spot, where almost every product attaches
     Over 42": When the crossbar spacing goes over 42" many of our products will no longer attach.  All Cargo Boxes are excluded at this length
If you have more specific crossbar spread questions, you can find our full quick reference chart here.
5) Do I need to secure my boat/surfboard/canoe at the front and rear with straps?
 Yes, Please use bow and stern tie downs no matter what length the boat is.  Wind from environmental conditions, driving, and passing Semi-Trucks can cause the boat to twist without these front and rear tie downs. When transporting a Boat, Surfboard or SUP always use bow and stern tie downs.